An Eight-Part Training Workshop
by Robert S. Tipton
---
"Highly successful organizations know how to overcome antibodies that reject anything new. But first, a process of change must happen that uses both the head and the heart."
John Kotter, PhD, Harvard School of Business
---
This workshop is for you if you answer "yes" to ANY of these:
---
1. Are you clearly stuck (and nothing you try seems to work)?
2. Has interpersonal conflict become destructive and punitive?
3. Is micro-management normal, and do people get rewarded for it?
4. Has someone actually said, "Just be glad you have this job"?
5. Is trust not only absent, it's negative?
6. Do even simple decisions seem to take weeks or months?
7. Has the "why" behind your work disappeared? (things are pointless)
8. Do "blame-storms" (could-a, should-a, would-a) replace accountability?
---
What's Included: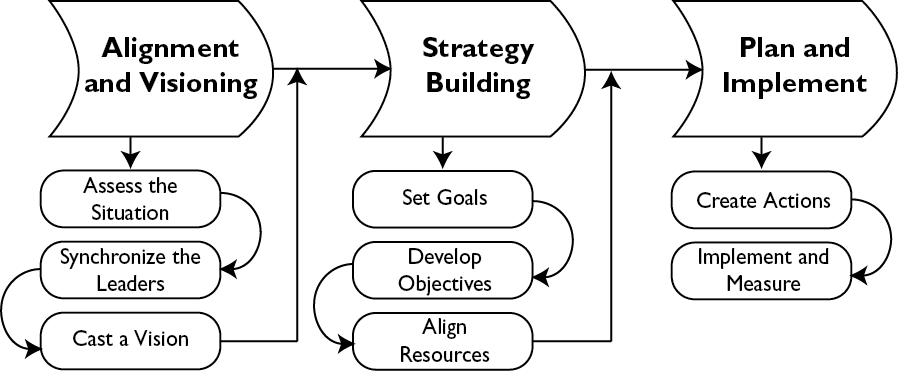 ---
SECTION ONE: Alignment and Visioning
Part #1: Assess the Situation
Part #2: Synchronize the Leaders
Part #3: Establish Strategic Priorities (Cast a Vision)
---
SECTION TWO: Strategy Building
Part #4: Set Goals
Part #5: Develop Objectives
Part #6: Align People, Processes, Tools and Structure
---
SECTION THREE: Planning and Implementation
Part #7: Create Actions
Part #8: Implement and Enforce Accountabilities
---
"Traditional change management has been around for decades, but is the same old approach really enough to make a difference? More than 70 percent of major change efforts typically fail." Bain and Company
---
Learn (and use) powerful techniques to not only AVOID the Top 10 Ways to Ensure Epic Change Failure (READ MORE), but to drive powerful, meaningful AND sustainable organizational change at the same time.
---
Testimonials
---
"To watch a master at work was enlightening. Bob's got my highest recommendation…"
John Sileo, President, NSA Colorado Chapter

---
Schedule Your Workshop!
[contact-form][contact-field label='Name' type='name' required='1'/][contact-field label='Email' type='email' required='1'/][contact-field label='Website' type='url'/][contact-field label='Comment' type='textarea' required='1'/]
[/contact-form]
Investment / Pricing Options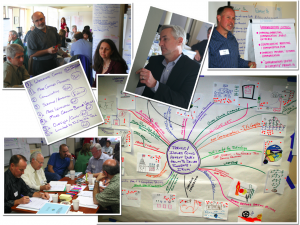 All of our training options are "on-site." Yes, this may be old school, but there's something important about leveraging the social nature of our human beings — the results are, well, just FAR more meaningful, powerful, etc.
Further — our "Get GOOD at Organizational Change!" workshops are generally two days in duration, but may be extended to three, four or five, depending on the situation and how best we can serve you. We'll spend some time with you upfront to make sure we've tailored everything perfectly for you and your organization.
Pricing is simple. Each workshop day is $5,000, plus $50 per participant in the workshop — regardless of the number of days. So — for a two-day workshop, for 20 people, your investment would be $10,000 (2 * $5,000 in workshop fees) plus $1,000 (20 * $50 in participant fee) equaling $11,000 total. For a three-day workshop for 50 participants, your investment would be $17,500 ($15,000 plus $2,500). Does that make sense?
Oh — and we would also charge for normal and customary travel expenses (if any). We travel coach and look at hotels.com for good rates, so we try to make it as affordable as possible.
Read on for more details about each of the eight parts in our "Get GOOD at Organizational Change!" workshops. And when you're ready, use the button below to ask for more information, or to inquire about dates that we are available to assist you. We'd love the chance to do that!
Contact Us to Schedule Your Workshop!
---
Overview of Parts One Through Eight
PART ONE: Assess and Prepare
Challenge
Many organizations try to be all things to all people, at all times, for all reasons — especially when the economy worsens, and global competition increases. Far too many organizations embody the "anything for money" dynamic when it comes to sales and marketing, new product development, geographic expansion, etc. What happens as a result is the already-stretched-too-thin resources of the organization (people, money, time, etc.) become even more unfocused, scattered, and fractured. Little of substance happens because the organization's energy is diffused, and has no power.
.
Solution
Part One focuses on introducing you to the overall Get GOOD at Organizational Change! workshop (all eight parts), and gives you clear understanding as to why team alignment is vital to overall success. You'll also be introduced to the JUMP! Innovative Change Model— a model developed by Robert S. Tipton and included in his book JUMP! – Get Unstuck. Additionally, you'll learn the process of assessing whether the motivation for change within your organization and leadership team is compelling enough to overcome the resistance any change will inevitably create. You will learn how to prepare your leadership to begin to come into alignment.
.
Outcome
Aligned leadership teams have the potential to create extraordinary breakthroughs in thought processes, innovation, and overall organizational outcomes. And Part One is designed to help you get your teams started on the right foot—to avoid potential pitfalls later in the process. Part One gives you a vital introduction to successful meaningful, sustainable change efforts: focus + concentration = power!
.
.
PART TWO: Synchronize the Leaders
Challenge
Too often, leadership "teams" come together and then talk about "what" needs to be done—and maybe even spend time talking about who might do things. Unfortunately, it's the rare group that focuses any significant time on the rules of engagement among the team members. Questions like, "what authorities do we each have, and how do we make decisions?" or "how do we resolve issues?" or "what are the clear roles and responsibilities for each member of the group?" or "what is the most efficient and effective approach to meeting schedules, and what are our preferred approaches to communication?" are almost never answered before a group begins work together.
.
Solution
Part Two of the Get GOOD at Organizational Change! workshop focuses on the process of designing and facilitating a proactive team charter for your leadership team. You will learn the process of calling and running a meeting, tools and processes related to establishing critical behaviors and cultures, as well as the components of a comprehensive team charter.
.
Outcome
Chartering leadership teams results in far more streamlined and effective results—because very little, if any, time is spent on posturing, politicking, and chest-beating. Roles and responsibilities are clearly understood, and accountabilities and authorities are fully documented. The team focuses on delivering the work instead of arguing over who's responsible for what, and when. Once your leadership team has a comprehensive charter, it is possible then to begin working on establishing strategic priorities—why? Because the team has been aligned around common expectations for behavior, communication, and decision making.
.
.
PART THREE: Establish Strategic Priorities (Cast a Vision)
Challenge
With all due respect to Nike's marketing department (who was focusing on ending procrastination — which is an altogether different topic), it is often difficult for organizations to resist the siren call of "just do it." We're bombarded by marketing messages telling us to get more done more quickly. The problem comes in when organizations and leadership teams just start the doing without clarity about their vision. As the white rabbit responded to Alice's query of "how do I get out of here" by asking, "where are you going?" Alice responded, "I don't know" to which the rabbit said, "then any path will do…" Without clarity around the vision, the organization doesn't have a good path forward.
.
Solution
Getting an aligned leadership team to become focused on a set of organizational priorities represents one of the most meaning-filled things a leadership team can do. As such, Part Three of the Get GOOD at Organizational Change! workshop will provide you with a set of tools and processes to help your leadership team decide upon a "competitive anchor" (client / customer, product / service, or operations) priority. "What is primary?" Then, session two will provide with specifics related to the affinity diagramming process and its use in establishing and prioritizing critical success factors for the organization. All of these activities result in developing a powerful, compelling, shared vision for the team and the organization itself.
.
Outcome
Developing a compelling and shared vision is an extraordinary outcome—and leadership teams become more laser- like in their focus as a result. The energy of the team becomes far more powerful as the energy of the team is aligned. In addition, powerful agreement will start to take shape because "the team" is creating the strategic priorities—as opposed to the more typical approach of having those with the most positional authority (EVP vs. SVP vs. VP, etc.), the longest tenure, or the loudest style of communicating. At this point in the process, the team begins to feel a strong sense of unity and group-related identity, and will feel the vision of the organization pulling them forward.
.
.
PART FOUR: Set Goals
Challenge
Even with a shared vision a leadership team can be in disagreement about "what" needs to be done to achieve the vision. In other words, the team may argue over the goals that follow the vision—goals are broad-based, enduring, long-term, never-finished elements designed to reflect the big picture of the vision. Examples include: become an employer of choice; be a leader in X product category; deliver X quality, etc. Without alignment about not only the categories of goals—but also their relative priority—the leadership team can quickly degenerate into politics and posturing. Neither of which add any productivity.
.
Solution
Part Four of the Get GOOD at Organizational Change! workshop focuses on creating, prioritizing, and endorsing organizational goals designed to drive the delivery of the vision. The tools and processes in this session include the "A", "B" and "C" basket tool—where the leadership team establishes items that are non-negotiable to success. Additionally, this session brings into sharp focus the need to concentrate on "what's right" for the organization overall, and not "who's right" (loudest voice, largest paycheck, best parking place, etc.).
.
Outcome
Getting the goals right and endorsed—creates the impetus, the energy and the momentum for the rest of the alignment mastery process. By now, the leadership team is operating in strong cooperation—beginning to own the "big picture" instead of their individual turf. The change in behavior and attitude is palpable. The energy associated with the team is becoming more tangible and more powerful by the day.
.
.
PART FIVE: Develop Objectives
Challenge
Even with clear and endorsed goals, a leadership team can be in disagreement about "how" things are to be done— especially related to how much, how far, how soon, and in what order. There are often turf battles remaining related to customer relationships, geographies, P&L, product lifecycles, formulas, etc. The leadership team begins pulling apart again because there's little alignment related to what's most important to do to deliver the goals.
.
Solution
Part Five of the Get GOOD at Organizational Change! workshop focuses on creating "Objectives"—specifics related to the "how" of delivering the goals. Tools and processes used in session four include the "Force Field Analysis" tool, used to create approaches to overcome situational inertia, as well as the "Creative Confluence Tool" which is designed to examine synergies, and to drive unexpected connections.
.
Outcome
The ultimate outcome of session five is an understanding of how to create R.A.P.I.D. Objectives (Relevant, Achievable-within-an-established-Point-in-time, Incredibly clear and Definite outcomes)—so that the "how" is both understood and agreed upon related to delivering the goals of the organization. This step puts a "sharp point" on the outcomes of the strategies – and by now the leadership team is operating as a highly-effective, high-performance group.
.
.
PART SIX: Align People, Processes, Tools and Structure
Challenge
R.A.T.S.M. Objectives (Relevant, Achievable, Time-Based, Specific, Measurable)—by themselves—are still not detailed enough when it comes to building effective action and implementation plans. Resources are still over-committed in some cases, or are non-existent in others. Dependencies, overlaps, gaps, and competing priorities still have not been identified—and as such, the potential for train wrecks in implementation is still likely.
.
Solution
Part Six of the Get GOOD at Organizational Change! workshop focuses on pulling apart the objectives into four categories—people, process, tools, and structure—and then integrating, refining, and ultimately restructuring the "actions" needed to implement the objectives. People-related items are grouped (training, incentives, etc.), as are tools (software, web, etc.), and processes (communication, change management, etc.)—and finally (as the last step), so are organizational structure elements. Session Six also describes a "gap analysis" process that highlights where attention needs to paid in the action and implementation planning process.
.
Outcome
By integrating, refining, and restructuring the objectives into "piles" based upon people, processes, tools, and structure, the leadership team ensures the "right things" get the "right level" of attention. As such, resources can be appropriately deployed, and the chance for a successful implementation increases dramatically.
.
.
PART SEVEN: Create Actions
Challenge
Even with all the detailed planning that has preceded Part Seven, high-level leaders are often mystified when their carefully-crafted strategies are not successfully adopted by their organizations. It's almost as if the leaders expect "magic" to happen when it comes to culture change. As a result, the places in the organization where "works gets done" wind up becoming confused and even more unaligned because they haven't been given the chance to evolve the culture. Camps sometimes set themselves up, and in extreme cases, sabotage begins. A poorly communicated strategy—where individuals are allowed to interpret it for themselves using the "what's in it for me" lens—are more dangerous than not creating a strategy in the first place.
.
Solution
Part Seven of the Get GOOD at Organizational Change! workshop provides you with powerful ammunition (tools and processes) to ensure the vision and resulting strategy will take root and grow effectively within all areas and levels in the organization. After all, if a new process is introduced into an old culture, the old culture wins. The culture needs to change along with the introduction of new approaches, strategies, etc. You'll learn how to establish a comprehensive communication plan as well as an experiential approach to implementing the changes within the organization— including the "jelly donut" model, where 90% understanding complete becomes 100% comprehension.
.
Outcome
Proactive, intentional approaches to initiating and managing change result in "stickier, meatier, more satisfying and more powerful" outcomes. Successful action plans are not coercive or threatening—nor are they overt attempts to create buy-in. Instead, well-crafted implementation and action planning will further add power to the organizational alignment by "enrolling" more levels and groups as part of the planning process—thus anticipating and addressing future resistance.
.
.
PART EIGHT: Implement and Enforce Accountabilities
Challenge
Up until now, all activities in the process of creating powerfully aligned and focused leadership teams—who have developed compelling vision, big goals, clear objectives, and comprehensive action / implementation plans—are simply academic, conceptual exercises. As such, the status-quo biases, the limiting beliefs, and the resistance to change barriers within the organization have yet to really "kick in." However, all that changes when it comes to actually IMPLEMENTING the new strategies. When implementation is imminent, bad behavior can instantly return—not only within the leadership team itself, but within the overall organization as well.
.
Solution
Part Eight of the Get GOOD at Organizational Change! workshop drives your ability to know the vision, goals, objectives, roles and responsibilities, communications approaches, differentiators, etc., that were established by your aligned leadership team will be implemented and measured—thus giving you the chance to learn and improve. This session is about effective resourcing and overall organizational courage to "Make It Real." There's no magic here, just some time-tested approaches to delivering, to crossing the finish line, to finalizing and implementing the planning process.
.
Outcome
Aligned teams create visionary, positive and enduring results. Part Eight of the High-Performance Organizations Workshop puts a capstone on the previous seven sessions by summarizing, and making "actionable" the information you've learned to this point.
---
Contact Us to Schedule Your Workshop!
---