Topics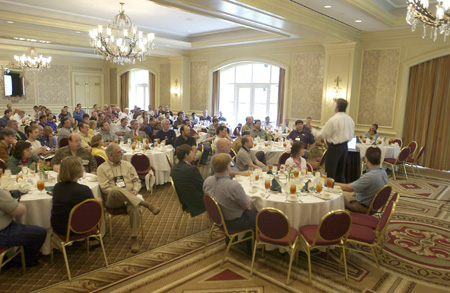 All of my topics relate to the subject of Transformational Change — some topics are more focused on the personal level, and others are more focused at the organizational level.
However, in both cases, I try to be the "ultimate in flexibility" as I'm able to tailor my message to fit your meeting theme, your industry, the current economic situation, or just about any other dynamic (haven't tried doing one yet wearing SCUBA gear, but I'd be willing to try it!).
---
The Power of Fierce Agreements:
I'm fascinated by the intersections in life where we have choices–BIG choices–that prove to be transformational moments. So much so, that I dedicate my personal and professional life to helping individuals, groups, and entire organizations reach for and achieve exceptional results. Not ordinary, okay, or sorta-good result—I get to share in their breathtaking outcomes.
There are two things I know for sure: 1) the saying "because I said so" doesn't work for anyone; and 2) major, life-changing choices are based on fierce agreement—and NOT on buy-in.
Key Learning Points
1. The Top 10 Things to Avoid Related to Epic Change Failures
2. Details of the "3 Step Fierce Agreement Model" and How it Drives Breathtaking Results
3. Advice on How / Where You Can Apply the Fierce Agreement Model NOW!
(Click on the image below for a PDF of my one-sheet)

---
Don't Fret About Change — Get GOOD At It!
There's a common misconception that change is hard. We are conditioned to believe this — and many of our own personal experiences with change seem to reinforce it. However, it's not so much that change is hard — as much as it is that we've really never learned how to be good at it! Change, like many things, involves a process — a process of "endings" followed by "beginnings." And endings often involve grieving — that's why change feels hard.
Let's do change differently! Let's be good at it! This session will give you a powerful toolkit and easily-digestible insights related to getting good at change!
Key Learning Points
1. The 9 Stages of Transformational Change (Grief then Growth)
2. Learn to Enjoy Uncertainty
3. Become Confident in Moving Forward — Lean Into Change
(Click on the image below for a PDF of my one-sheet)

---
Life-Long Transformations in 8 Seconds (or Less!)
when you meet me, I'm likely to ask, "What Have Been the Most Important / Revealing 8 Seconds of Your Life?" I'm not nosey — I'm on a quest to understand and then share: 1) the circumstances preceding, 2) the "stuff going on" during, and 2) the resulting outcomes from what I call "brief encounters of the transformational kind."
Through my life's work in transformational change, and my own personal "8 Second Epiphanies," I'm convinced the universe WANTS authentic joy and prosperity for us. This session is jammed with practical, useful tools to help us allow, accept, and appreciate these "8 second gifts of insight."
Key Learning Points
1. Learn to Allow — Stop Resisting
2. Accept the Flashes of Insight That Come Forward — Don't Censor
3. Appreciate the Path You've Been Shown — Align with Your Purpose
---
Unleashing the Power of Transformational Change Leadership
I've been assembling my list of "7 Core Beliefs of Transformational Change Leaders" (TCLs) over the past several years, and I've come to discover that these folks are just — well — different. You "know" it when you're in their presence…
TCLs live an attitude of "been there, done that," and have an approach that is calm, accepting, and wise. TCLs never seem to have their "hair on fire" about anything, and usually have a good answer for virtually any question. This session shares the power in becoming a transformational change leader — for your business, your family, your life. Unleash it!
Key Learning Points
1. Transformational Change Can't Happen Through Me Until It's Happened To Me
2. People Don't Resist Change. People Resist BEING Changed without their Permission
3. Invest In Only the Best Options and Have the Courage to Let the Rest Fall Away
---
Breaking Out of Your Comfort Zone
Living life on auto-pilot is not only unsatisfying, it can be dangerous too. Have you ever found yourself sitting at your desk at work — and cannot for the life of you remember the way you got there? You know you got in your car (or took the train, etc.), but the journey is missing in your awareness… We get caught in the comfort zone of life, and stop paying attention, being conscious, and eventually find ourselves "stuck" in a rut.
This session will give you a "nudge" — a "tapping on the shoulder" if you will — related to how to start risking again, and to begin the process of rejoining the living… Leave your "automatic robotic life" behind. Prepare to Break Out of Your Comfort Zone!
Key Learning Points
1. Life is About Contentment, Not Comfort
2. Stop Being a "Comfortable Robot"
3. Get in the Game, Contribute Massively
---